RV and Large Vehicle Glass Replacement
Call Today


678-341-5582
Georgia Auto Glass knows that recreational vehicle (RV) owners love to spend time outdoors and on the open road. One benefit to RVs is the large windshield and windows that they have that let the driver get a great view of the scenery and road around them. When this windshield glass gets damaged, it is necessary to have our professional glass repair company replace or repair the windshield as soon as possible.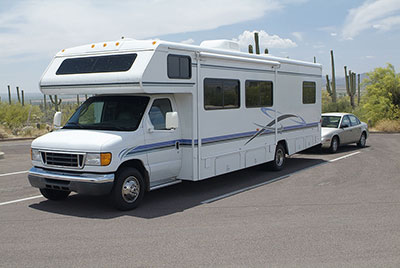 When you and your family decide to purchase an RV, you are doing so because you want to travel and see the country at your own pace. RV owners tend to take their vehicles out on the open highway for weeks or even months at a time. With so much traveling, your chances of having a damaged windshield or broken RV mirrors are very likely. Traveling on the open highway leaves your RV glass exposed to flying debris.
Just like your vehicle's glass, small chips on your RV windshield or RV mirrors can grow into large, annoying cracks. Changes in temperatures throughout the seasons and rough driving conditions can cause a small chip to spread into a large, unmanageable crack. If you seek glass repair assistance early, while the chip is still small, it can usually be fixed easily enough.
If the chipped windshield or cracked RV mirrors are left untreated, they will need to be replaced. Our automotive glass repair and replacement company can assist you with either situation. With so much time spent on the road, safety is of utmost concern for RV drivers. RVs are extremely large and take a lot of concentration and experience to drive safely and correctly. The RV windows, windshield, and even the mirrors on your vehicle are vital for a clear view of the road. Large cracks in the glass can impair your vision, which can put you and all of your passengers in great danger on the road.
Please let our Georgia auto glass repair company help you with your RV glass repair and RV glass replacement needs. You can fill out our online contact form at your earliest convenience.
Average rating for Georgia Auto Glass is 4.96 stars of 5 stars – based on 29 reviews
Georgia Auto Glass is the only company I will use for my glass repair needs. They do great work. They came to my office complex and fixed my windshield on site. Lance was the guy who did the work and was very professional and efficient.… Read more "Windshield Replacement in Norcross, GA"
Essex L. - Norcross, GA 30093
I had an awesome experience with Georgia Auto Glass & Georgia Glass Repair start to finish. I am new to Angie's List and was hopeful of a positive experience, and that is exactly what I had. I had a glass pane in my kitchen display… Read more "Glass Replacement in Suwanee, GA"
Scott B. - Suwanee, GA 30024